The lyrical mastermind that which is Vybz Kartel has dropped another staggering track. The official audio tilted Tony Montanna was debuted on the artiste's VEVO page yesterday, February 16th and have already racked up over 200k views, which appear to be rapidly increasing on a per minute basis.
In true Kartel style, the deejay manipulates the riddim of the track with a lyrical swag like no other. As usual, the systematic details are unmatched and worth every mention. Tony Montanna is a gangster's promise; the deejay lists the many ways his gun can annihilate an adversary if he disses the don.
He makes it clear "yuh cyaa hold mi pon nu corner, yuh haffi catch me in a house like Tony Montano, one ting doah mi have a million piranha, hundred thousand rifle pon verandah fi di drama, if yuh mek it past desso dawg yuh skill, Maradona but yuh fxck if yuh go touch the front door, Bangarama!"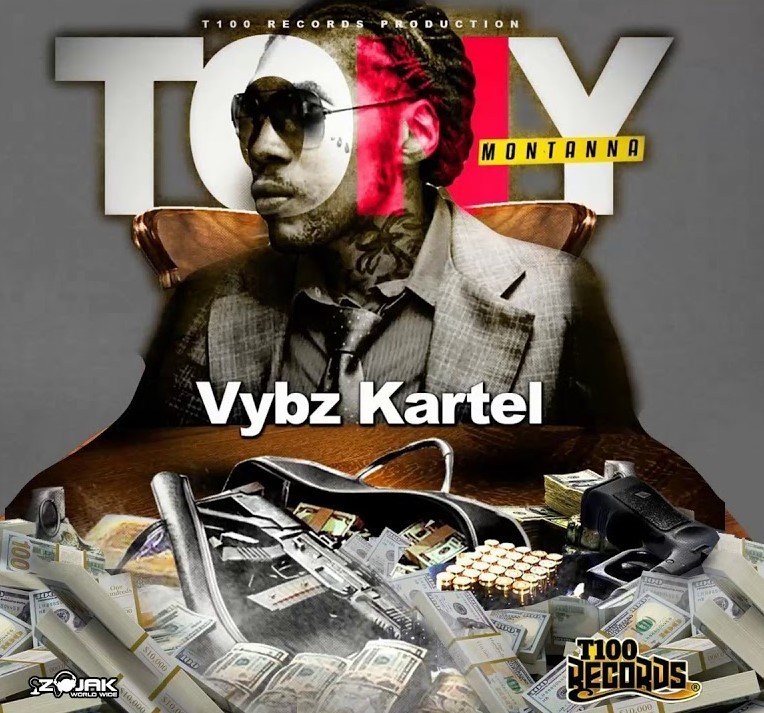 So he outlines he has a 'hundred thousand' guns that he's not afraid to use, then proceeds to describe his other obliterating tactics:
"Melt you like gold, Jewelerama, get warmer, nyam bwoy food like Jeffery Dahmer", "bore up yuh rass face… speed up yuh last days", "Kel-tec weapon spit seven every second, left hand straight, one inna chin not Tessanne", "Tami gun a echo grand canyon in session", "every weh mi go, mi tank and mi gun full a petrol, press dem and lift up like Bolt pon the Chevron".
The Worl' Boss demonstrates his lyrical skills without skipping a beat, getting the message across over and over again, like a 'Teacha' he gives you several examples to compound your understanding.
Fans are wallowing in the verses of Tony Montanna, commending the deejay for his brilliance and wit. The comments are loaded with quotes of their favorite lines:
Jamiel Clarke: Many got the tessanne chin line But didn't realize that he also mention tami chin as well Keltec weapon spit 7 every second Left hand straight one inna yuh chin not TESSANNE